Here is a little component I put together this afternoon. It may be of some interest to (other) beginners.
It displays a panel of 4 buttons and fires a callback when one is hit, giving the index.
Coding tips (always) appreciated!
π
PS It might be an idea to use/adapt this code on the buttons pane in the demo, which has a similar GUI construct.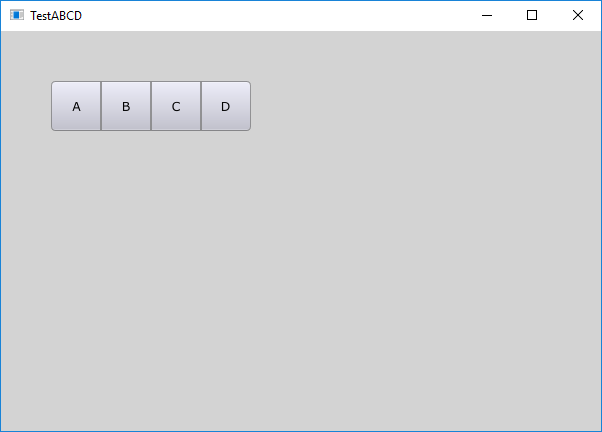 Code: (Create an a GUI app from ProJucer, paste the code into mainComponent.h, and remove everything apart from the #include from mainComponent.cpp).
// ABCD_Button
// π 24.02.16

#ifndef MAINCOMPONENT_H_INCLUDED
#define MAINCOMPONENT_H_INCLUDED

#include "../JuceLibraryCode/JuceHeader.h"

class ABCD_Button : public Component
                  , private Button::Listener
{
public:
    struct Listener {
        virtual void ABCD_Clicked(int index) = 0;
    };
private:
    ListenerList<Listener> listeners;
    OwnedArray<TextButton> btnGrades;
public:
    ABCD_Button() {
        for (int i = 0; i < 4; ++i) {
            auto btn = new TextButton(String::charToString('A'+i));
            btn->addListener(this);
            addAndMakeVisible(btn);
            btnGrades.add(btn);
        }
    }

    void resized() final {
        auto R = getLocalBounds();
        int w = getWidth() / 4;
        for (int i = 0; i < 4; ++i)
        {
            TextButton* btn = btnGrades[i];
            auto r = R.removeFromLeft(w);
            btn->setBounds(r);
            btn->setConnectedEdges(
                ((i != 0) ? Button::ConnectedOnLeft : 0) |
                ((i != 3) ? Button::ConnectedOnRight : 0));
        }
    }

    void addListener(Listener* _) {
        listeners.add(_);
    }

    void buttonClicked(Button* _) final {
        for (int i = 0; i < 4; i++)
            if (_ == btnGrades[i])
                listeners.call(&Listener::ABCD_Clicked, i);
    }
};

class MainContentComponent   : public Component
                            , public ABCD_Button::Listener
{
public:
    MainContentComponent() {
        abcdButton = new ABCD_Button();
        abcdButton->addListener(this);
        addAndMakeVisible(abcdButton);
        abcdButton->toFront(true);
        setSize(600, 400);
    }

    void resized() {
        abcdButton->setBounds(50,50,200,50);
    }

    void ABCD_Clicked(int index) final {
        DBG(index);
    }

private:
    ScopedPointer<ABCD_Button> abcdButton;
    JUCE_DECLARE_NON_COPYABLE_WITH_LEAK_DETECTOR (MainContentComponent)
};

#endif  // MAINCOMPONENT_H_INCLUDED